Newsletter: October 2011
Hello!
We have not forgotten about you! It's been a busy summer with lots of exciting new changes and projects for RP.  FIrst, we have officially relocated to New York City! Second, we've hit the ground running in our new hometown:  Our social action team has been working on a range of films and campaigns and our production team has just returned from shooting a new project in Uganda.
Here is  everything RP is working on, and how YOU can get involved:
The Last Survivor We  have begun work on The Last Survivor Classroom Action Project – the educational initiative to complement our first feature length documentary,The Last Survivor. We plan to kick off our outreach to hundreds of classrooms in January 2012. If your school would like to participate, please email us. You can also help by donating; the more we raise, the more schools we can reach.
WEB We are almost done editing our second feature length documentary! And, we want you to be in it. Send us a picture or video that exemplifies the moment you realized the internet and mobile technology has made us a hyperconnected global society.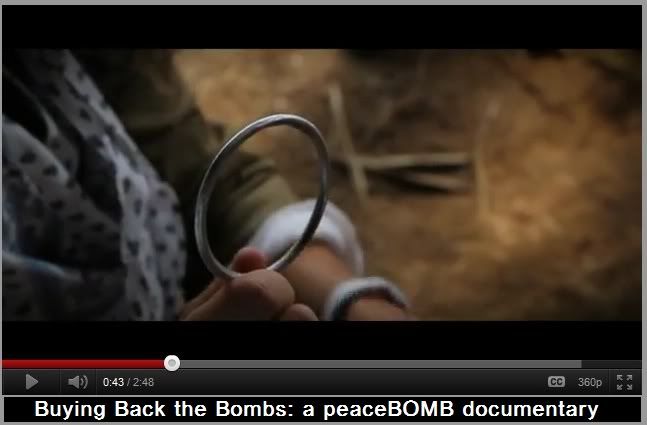 peaceBOMB Article 22, a sustainable fashion company,  launched a jewelry line made out of  exploded bomb material in Laos. We launched their documentary on YouTube and received 11,000 views in a week! Money from their jewelry goes to the artisans in Laos and local NGOs who are clearing their land of bombs. Get one of their gorgeous bracelets here.
To Catch a Dollar To Catch a Dollar is a Sundance documentary that chronicles the launch of Nobel Peace Laureate Muhammad Yunus's unique and revolutionary microfinance program in the United States. Our social action team helped launch this film in theaters in New York and Los Angeles in September, and kicked off their Economic Empowerment community screening and educational tour. Bring the film to your school or community.
Deaf Jam A part of PBS's ITVS series, Deaf Jam is the story of deaf teen Aneta Brodski's bold journey into the spoken word slam scene. Our social action team has been running the documentary's online campaign and website redesign. See the film on PBS on November 3rd. Check your local listings.
Women War & Peace During the summer, our social action team had the honor of working on the online campaign for the PBS series, produced by Abigail Disney. Help us out by liking the Facebook page.
Thank you for your support as our company grows. We have some exciting changes coming up and we look forward to sharing them with you. And, look out for our next email where we will tell you all about why we were in Uganda and the adventures we had…
Our Very Best,
Team Righteous